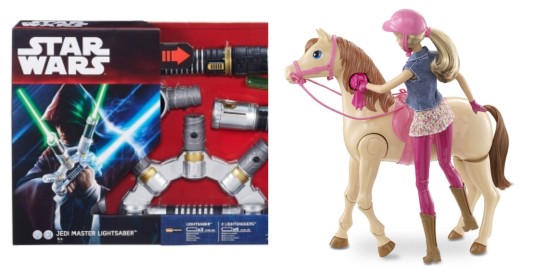 Have you seen the Hot Toy List from Toys R Us yet? Just in time for your Christmas shopping, it's pretty much the only list you'll need if you've got kids of a certain age.
If you're on Twitter you can also check it out by searching for #TRUHotToyList but it's basically the top 15 toys that Toys R Us predicts will be top of wish lists for kids everywhere this Christmas.
I'm not about to run through the whole thing here - you can click the link above to check it out for yourself - but here are five of our fave toys from the #TRUHotToyList...
1. Shopkins Fashion Boutique Playset (£29.99)A friend's little girl introduced me to Shopkins recently and I don't mind admitting that I've actually considered buying some to play with by myself. Actually, I slightly regret having shared that now. Oh well. But while I can see the appeal of the Boutique Playset, what I've really got my eye on is the Shopkins Scoop Ice Cream Truck Set (£19.99.) How flipping cute is that?
2. Fisher Price Bright Beats Dance And Move BeatBo (£36.99)
He sings, he dances, and he remixes what you say into a cute and groovy song. What else is there to know? BeatBo's got a great memory too - he's loaded with more than 40 different songs, tunes and phrases, and if you really need an educational justification for buying this adorable little dude, he can help develop gross motor skills, sensory, curiosity and discovery. Sold!
3. Star Wars Bladebuilders Jedi Master Lightsaber (£49.99)
There are lightsabers. And then there's this. The Jedi Master Lightsaber features a main Lightsaber complete with lights and sounds, of course, plus two independently-lit lightdaggers, an expansion hilt, two elbow connectors, a dual connector, and a cross connector. I'm not even sure what half of that is for but I can tell you on good authority that Star Wars fans NEED one of these this Christmas. *Starts saving*
4. Paw Patrol Paw Patroller (£59.99)
My lads are way too old for this but but when they were younger this is just exactly the sort of toy they would have ADORED. And I reckon I could have got away with it being a joint gift, too. Bonus! Along with the Paw Patroller you also get Ryder and his ATV vehicle. Also included is a working lift to take the pup vehicles up to Ryder's Command Center.
5. Barbie Saddle N Ride Horse (£49.99)
It's Barbie and her very own horse! By some act of pink sparkly magic, she swings up onto her horse's saddle and then off he trots. Genius. And all you have to do to make it happen is connect Barbie's hand to the horse's mane then press the button on the horse's brow. Barbie was never this cool when I was a kid.
So that's my wish list sorted. What's on yours? Come and tell us over on our Facebook page.