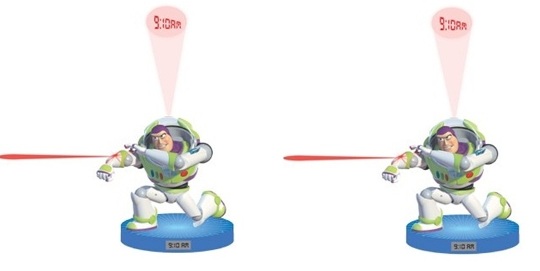 Oooh, this deal is awesome. You get a talking Toy Story Buzz Lightyear alarm clock that also projects the time onto the wall. How cool is that? I want it for me! Yes, yes I do. Especially at the low price of £9.99 including free UK delivery.
The Toy Story 3 talking alarm clock features Buzz Lightyear in an "attack" pose and says a bunch of Buzz phrases. It also projects the time onto the ceiling. How awesome is that? The phrases included are, "To infinity and beyond" (of course), and "This is an intergalactic emergency", among others. I hope that's how it wakes me up.
The product is suitable for kids over the age of three and although it is a digital time piece it will help getting kids aware of time and telling the time, which is no bad thing. The Buzz Lightyear talking alarm clock would make a stunning Christmas gift I think.
Thanks to andywedge at HUKD