Toy Story 3 Storybook Pillow £7.50 @ Wilkinson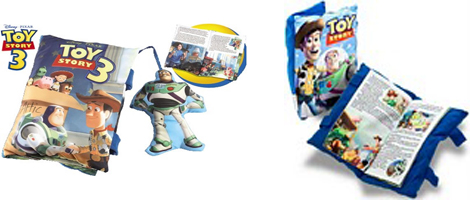 Oooh, we are huge Toy Story fans in this house. When I bought my daughter Buzz Lightyear I think it was more for me than it was for her. I am definitely going to get her this Toy Story 3 storybook pillow for our loooong Christmas flight in December. Down to only £7.50, it's a great price.
So…I hear you asking me what exactly a Toy Story 3 pillow is? Well, the answer is that I don't know either. Apparently it is a book and a pillow in one. Yes, you read that correctly. This is why I want to buy one because this idea fascinates me.
Questions like – won't it be very uncomfortable, and ouch, and how – all pop into my head. Basically you can read and play with Buzz Lightyear from Toy Story with a plus and comfy pillow that is a book. Buzz is the bookmark. Hahahaha.
Thanks to karinaj at HUKD!