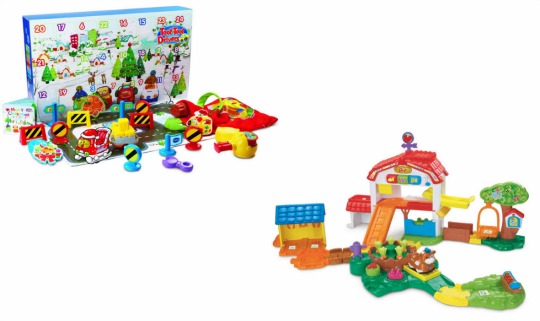 We know that a lot of you are searching for the best prices on VTech Toot Toot Toys. We have found some at great, low prices over on Amazon. Even the Toot Toot Advent Calendar is reduced. If you are looking for these sets, we recommend that you grab them sooner rather than later as Amazon stock can shift fast. Some times Amazon's prices can increase at the drop of a hat also.
The VTech Toot Toot Advent Calendar* is at the best price we have ever seen it for. Forget paying around £25 for it, get it for just £18.24. It contains 24 fun play pieces, one of which is an adorable Toot-Toot Drivers Sleigh.
We think these Toot Toot sets are bargains: VTech Toot Toot Animal Treehouse* only £18, VTech Toot Toot Animals Farm* just £29.99, VTech Toot Toot Construction Site* only £19.99 and VTech Toot Toot Driver's Racing Rampway* only £10.94 (out of stock but you can order and lock that price)
Theses are selling fast so just make sure you check "other sellers" on the item you're looking at, like the Rampway a few things are temporarily out of stock but you can still grab that reduced price.
You can have your VTech Toot Toot bargains delivered for FREE if you have Amazon Prime or are spending £20 or more. If you don't have Amazon Prime or are spending less than £20, then delivery is £3.30.