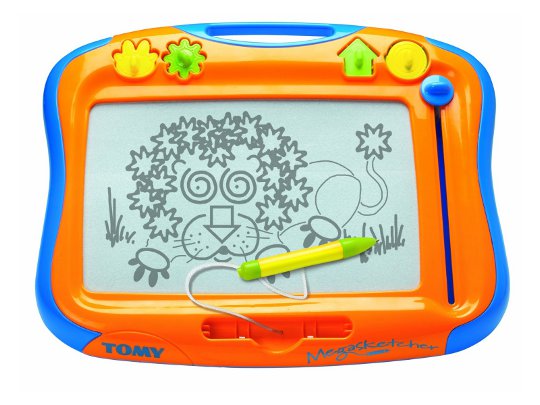 Amazon has a Tomy Megasketcher on offer for £8.79 which is cheaper than some of them on eBay even! Of course you have to add the annoying under £10 shipping charge, unless you're buying something else.
Children love to draw, and the Megasketcher from Tomy is a fun, clean and tidy variation on the traditional pencils and paper, perfect for travel, airplanes and not-so-messy indoor days.
The Megasketcher measures roughly 45 cm x 30 cm (18 in x 12 in), and has a magnetised "screen" taking up most of the surface area. A magic "pen" allows children to draw, scribble and write, while the four magnetised stamps add a different dimension to designs. Once a composition is complete, or if one too many mistakes has been made, simply pull the eraser lever up and down and, hey presto, it wipes away the redundant drawings.
The ability to use it over and over again is great as it saves space for a start! Not suitable for children under three years old.