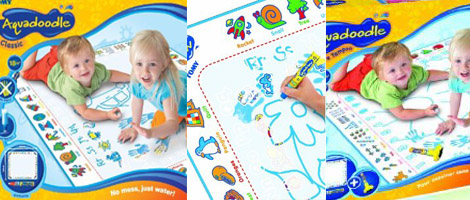 Aquadoodle Classic from Tomy is a great toy for kids – ours is still going two years later! These offer up hours of fun for kids of all ages and this particular gem has been marked down from £19.99 to £13.97 at Amazon.
The Aquadoodle is a no fuss, no mess, drawing tool that lets kids go wild with their imaginations and then, as the water dries, start all over again. However, as a mum, I suggest taking photos of their best drawings because, unlike paper, the disappear forever.
Simply fill the Aquadoodle pen with water, spread out the mat, and start drawing. As kids scribble along they will also uncover hidden pictures that include letters of the alphabet and images to match. These will help with basic letter and number learning as well as helping them to develop their writing skills.
The kit includes one mat and one pen, is easy to fold up and store, and is not even remotely messy. Ours has been hauled out at parties, cold afternoons and playdates and has been stood on, spilled on and so much more – and it is still going!
Thanks to ptamblin at HUKD!