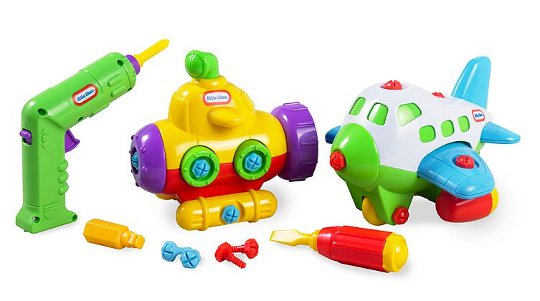 I found a box lying on my desk a few weeks ago, and on opening it, discovered the Mini Mechanic set from Little Tikes. If you imagine one of those movie montage moments, where the character goes back in time and watches themselves doing something at a previous time, you'll pretty much know what happened to me when I opened this set.
My brother had a toy very similar to this, whether it was Little Tikes or not, I don't know, but I do remember the airoplane with the electric drill.  What happy memories, and perfectly Christmas morning in nature.
The Little Tikes Mini Mechanic set* (£15) comes with an airoplane and a submarine with large red and blue screws. It also comes with an electric (battery operated) screwdriver and two screwdriver bits. It also comes with a manual screwdriver.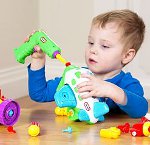 The idea is that you can use the screwdriver to take apart either the plane or submarine, then flip the direction switch on the screwdriver, and put it all back together again.
The screwdriver is battery operated and requires two AA batteries, whcih it comes with, so it's ready to go.
The screwdriver bits are blunt - unless you physically poke it into someone's eye, you aren't going to cause any injury with it.
The grooves in the screws are pretty deep, so the screwdriver slots into them, getting good grip for your screwing. This is really nice as if it kept slipping off it would frustrate little ones. While it all comes apart, the individual pieces don't break down too small, so you're not likely to have anyone choking on it.
Once they're built, the toys themselves are fantastically robust. My 20 month old plays with it just as much and as well as my 4 year old, and they both love it. As you roll the airoplane along on the ground the wings flap up and down, which is kind of sweet and interactive. They do withstand a lot of bangs and clatters though.
Really, the only negative I have is that there's nothing to put all the bits into when you've taken it all apart. If your child gets distracted half way through and runs off doing something else, you're likely to quickly have pieces missing. Our airoplane currently functions on just one engine as a result. It doesn't affect performance, to be fair, but it does bug me.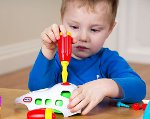 The funny thing with this set is that I enjoy it as much as my children do. There's something ridiculously mesmerising about the 'drilling' as my daughter calls it, and getting the screws in and out. I'm really not sure why, but I enjoy it too, and will often 'help' my children, specially making sure the screws are in, and that's a game I don't mind playing. It's oddly satisfying.
Packaging-wise it's all relatively user friendly. The box has a plastic and cardboard cover, and the bits are held securely inside, but the toys don't have cable ties or twist ties which I was pleased about.
The Mini Mechanic set is also exclusive to Asda, for whichever reason they've done it that way, so the only place you can find it is Asda.
These are among a very small amount of plastic toys in our toy box, but they are totally welcome there, because it's a fabulous toy and we all love it.
The Good
The Little Tikes Mini Mechanic set is a lovely, large box, with two toys and the screwdrivers, so there's a lot to keep little ones entertained in the one set and perfect for a nice big box under the tree
It's pretty good value for money at £15
The plane and submarine are really sturdy, and stand up to a fair bit of play
It's mesmerising turning the screws in and out, in and out and is fun for all
The Bad
Honestly the only 'bad' thing is that there's nowhere to keep things when they're dismantled. It could do with a box or something to put all the bits into, even the screwdriver and it's parts could do with a tool box or something.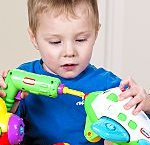 The Verdict
I think this is a lovely gift, and a great toy for little ones. It comes play-ready so you don't even have to add batteries or anything. Just wrap and put under the tree. It should last for a long time, and should certainly be a favourite for this year.