Thorntons' Christmas in July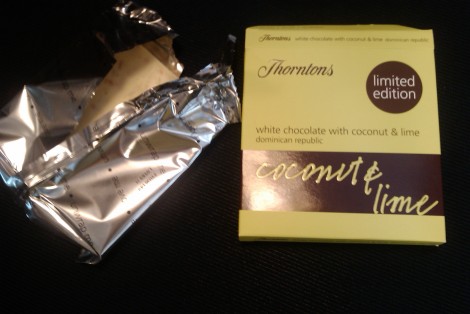 Yesterday I was the luckiest chocaholic in town. I got to go and see what Thorntons are planning for their Christmas chocolate range this year, and I can tell you that we are in for some seriously yummy stuff. They even had a chocolatier come and talk to us about the different kinds of chocolate and we tasted them while he talked so we could understand more about the flavours.

I was, I admit, amused by the fact that the man who makes chocolate and tastes chocolate was thin. How is that fair?
So, at the launch he told us about how normally white chocolate is deodorised so it doesn't smell as strong. The white chocolate that they are using for the yummy new white chocolate, coconut and lime bars (see above!) hasn't been deodorised and so smells and tastes incredible. It is, honestly, the best white chocolate I've ever tasted.

Other delights in store for you include: personalisable chocolate Christmas trees, personalisable chocolate advent calendars, gorgeous Santa chocolates (actually you can personalise most of this lovely stuff), gigantic adult sized bars of chocolate (and I mean GIGANTIC), and more.
There were two things that I really liked. The first was the new dipping set (picture to the right), that has yummy dippers like marshmallows, and chocolate pots that you can heat up in the microwave. How perfect are those for winter?
And the last thing that I really liked was the advent calendar. You can personalise a little mini-slab of chocolate so everybody knows who's calendar is whose. In a big family, that's a real winner. As a parting shot I have to tell you a funny story that one of the lovely Thorntons' people told me...

"If you are really careful, you can ease the advent calendar out of the box, steal the chocolates, and ease it back in without anybody knowing," he said, "In our offices we take turns opening a day and so we all snuck one lady's chocolate out so when she opened it up, there was nothing in there!"
I don't know about you, but I found that really funny.