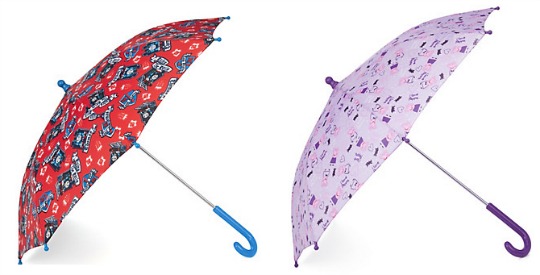 The weather has changed dramatically in the last couple of weeks. I am sad to say, if you haven't already noticed, summer is on her way out. What's good about winter? Well lots of things, cosy woollen jumpers, waterproof wellies and uber-cool umbrellas. M&S has slashed the price on two styles of umbrella. Thomas & Friends, was £9 and now only £3. The Peppa Pig one was also £9 but is slightly dearer at £4.50.
Now, before you get too excited, let me break you the bad news, these are for children. They get all the cool stuff, huh? Both umbrellas come with plastic protectors on the end of each spoke to prevent any loss of eyes. The crook shaped handle is also plastic and is chunky in design to make it comfortable for little hands to hold.
I always think children's umbrellas are better made than adults ones, they NEVER blow inside out. I have had cheap ones, to Radley, even a Lulu Guinness one and they all broke from blowing inside out. Anyway, let's forget about my umbrella woes, these kiddies ones from M&S are so cute. The Thomas one is red and blue in colour with Thomas the Tank all over it. The Peppa Pig one not only features our favourite little oinker, but says "I Love Peppa" all over it.
M&S offer a free collection service from any of their stores, including Simply Food ones. If you'd prefer to have it delivered then it costs £3.50.