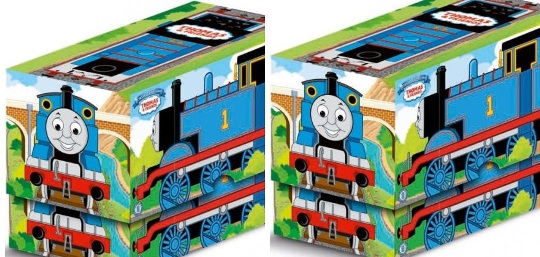 I was sent the info for this ace Thomas and Friends classic collection box set by Ling who found it on sale at both The Hut and Zavvi for this great price of only £20.95. Usually the entire set costs around £30 so you're saving a tidy £9.99 on this.
The Thomas and Friends DVD box set is the 65th anniversary edition and originally went on sale for around £15. The price has gone up by a lot here but this is still a good deal considering the individual DVDs for each season tend to cost around £3-£4 each. That is quite a saving off going out and collecting the entire series one by one. And less effort…
Ling mentions that the presentation box is pretty but a bit of a letdown in terms of the physical content. She reckons 50% of the box and individual DVDs of each season are the thinnest DVD coverlets you can get. However, there are still several hundred hours of Thomas content for a great price and free delivery.
Thanks to Ling at HUKD!