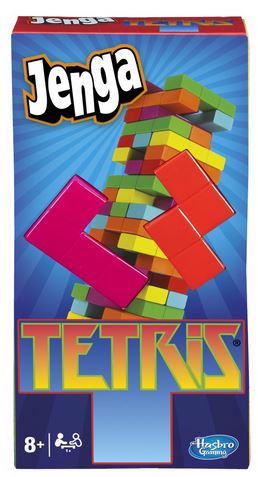 The classic game of Jenga has been given a Tetris twist, and is for sale at Amazon for £7.49 or £10 with delivery. It's currently £15 or more elsewhere.
This game of Jenga has a great throwback to the online game Tetris. These Jenga games have 6 different shapes like the ones in the Tetris game.  The game has 'rules', in that you have to complete a solid row and then you get to choose the next player. The last one to pull out a block without crashing the stack is the winner.
Two famous brands join up for a modern twist on the stacking game you know and love. Build the Jenga tower using colorful Tetris blocks that add flare and fun to this familiar game. Get ready for laughs and surprises as you take turns pulling out a Tetris-shaped block and balancing it on top without making the stack crash!
If the rules aren't for you you can invent new ways to play. You can stack it high, build it wide, remove the loosest block or risk pulling out a block with a tighter fit.
The set comes with 47 Jenga Tetris blocks and instructions and is best suited to players aged 8 and over.
It sure sounds like a bit of Boxing Day fun.
Thanks to Jas10 at HUKD