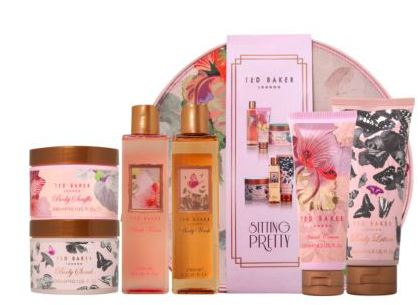 Ending today, Boots' Star Gift of the week is a  Ted Baker Sitting Pretty Vanity Case fragranced with intimate touches of bergamot, red fruit, tuberose and patchouli. Less than half price at £22 instead of £45, this offer end today to make way for a new offer tomorrow.
A fantastic collection of Body Wash, Body Scrub, Body Lotion, Bath Foam, Body Soufflé and Hand Cream wrapped in soft tissue paper with a unique Ted Baker print will make a beautiful Christmas gift for anyone who loves a long bath or soothing shower.
Included in this set are:
Body Scrub, fragranced with an opulent mix of bergamot, red fruit, tuberose and patchouli.
Body Lotion
Butterfly Wings Body Wash
Bath Foam scented with rose, sandalwood, raspberry and divine vanilla
Body Soufflé to moisturize and nourish your skin.
Hand Cream to keep your hands pampered.
The gift set comes in a vanity case featuring a beautiful floral print on the outside with pink and white candy stripes on the inside, a golden zip along the front and with a buckled handle. Perfect for taking your cosmetics away with you or for gifting!