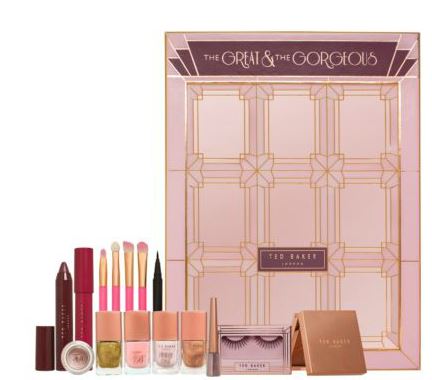 This week's Star Gift is the Ted Baker The Great and the Gorgeous Cosmetic Gift Set, reduced from £40 to £19.
The Great and the Gorgeous Cosmetics Gift Set is a wonderful gift, packed full of make-up to keep eyes, lips, cheeks and nails looking fabulous.
The set contains a bronzing compact, lipstick crayons, eye liner, shimmer eye creams, eye glitter, false eyelashes and glue, nail polishes, illuminating liquids and cosmetic brushes,  - so a pretty full Christmas gift parcel that will keep giving well into the new  year.
This selection box makes a great gift. It contains: Bronzer (7.4g) 2 x Lip Crayons (2.1g each) Eye Liner Pen (0.5ml) 2 x Eye Creams (5.8g each) Eye Glitter (1.6g) 2 x Nail Varnishes (9ml each) Pink Illuminating Liquid (9ml) Gold Illuminating Liquid (9ml) False eyelashes and glue as well as a selection of cosmetic brushes.