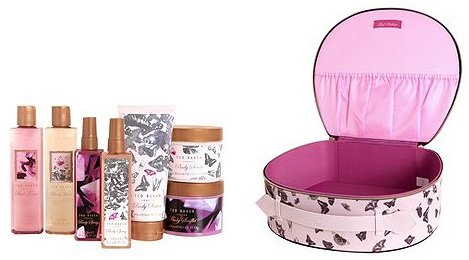 The Ted Baker 'Make It Big Vanity Case is currently £19 at Boots, which is less than half price – it's usually a set worth £40.  This offer is only available until the 3rd of November though, so don't think about it for too long.
Graced with a flutter of butterflies this Ted Baker vanity case would make a lovely gift for someone who needs a little pampering.
The Ted Baker 'Make It Big' Vanity Case includes:
Butterfly Body Wash 250ml - a rejuvenating body wash to leave skin smooth and supple
Butterfly Body Lotion 200ml - a delicate infusion of bergamot, red fruit, tuberose and patchouli
Butterfly Body Spray 150ml – simply spritz this beautiful body spray for all day freshness
Butterfly Body Scrub 300ml - revive your skin with this sumptuous body scrub, delicately fragranced with the Butterfly Wings signature scent
Origami Bath Foam 250ml - relax after a hard day's work (or hard day of shopping!) with this decadent bath foam
Origami Body Souffle 300ml - an opulent Body Souffle to moisturise and nourish your skin, fragranced with rose and sandalwood, enhanced with fruity raspberry and soothing vanilla
Origami Body Spray 150ml - feel fresh all over, all day with this beautiful body spray
Additionally, if you're a Clubcard member, you'll earn 76 Advantage Card points with each set you buy.