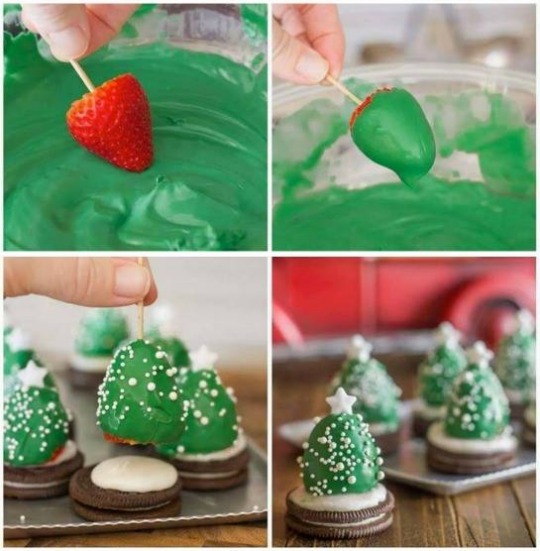 This looks like a really cute and very easy little treat to make this Christmas, and the only special thing you need to buy to make them is the green Candy Melts! Apart from those Candy Melts which you can get from Amazon here* or at Lakeland, the rest of the goodies you can grab at the supermarket. Here's how to make them:
Ingredients:
Strawberries, stems removed
24 Oreo cookies
White Icing
Sprinkles
Candy Stars or similar
Directions:
Put a heat proof bowl over a small pot of simmering water on the hob. Slowly melt the candy melts in the bowl, stirring occasionally. Do not allow moisture to come in contact with the candy melts or they will separate.
Spoon or pipe a small amount of icing onto the top of each Oreo to help the strawberry stick to the cookie base. If you are a dab hand at splitting the Oreos (twist the top and bottom biscuit in opposite directions folks!) then you can skip the icing and just use the Oreo filling to stick the strawberry on to.
Once the candy melts are fully melted turn the heat to low while you dip the strawberries using a toothpick inserted into the cut end.
Shake off excess candy coating gently. Using a second toothpick inserted into the pointed end of the dipped strawberry, carefully place the strawberry on top of the icing on the Oreo.
Decorate with sprinkles and a candy star while the candy coating is still wet. It will usually dry in about 10 minutes.
These will not keep for long or the moisture from the strawberries will make the biscuit all soggy, so don't prepare them too far in advance.
I quite like the idea of picking up lots of different coloured cake sprinkles, chocolate stars and so on from the baking section in the supermarket and letting the kids go mad decorating the little trees. You can get a huge variety in Asda, though all the major supermarkets sell similar items.
Original idea and photographs from Lovely Little Kitchen.