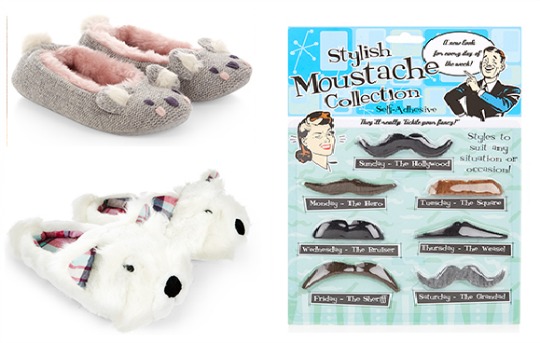 Who doesn't LOVE Accessorize at the best of times? Factor in a sale and FREE delivery and I am all over it like a bad rash! If you still have stocking fillers to grab, or just adore little Christmas novelty items, then head over to Accessorize NOW! Items start from just 75p delivered, and there's heaps of hilarious and cute bits and bobs to bulk out those presents with. There's lots of items that would be ideal for a  Secret Santa present.
Okay, so most of the stuff at Accessorize is girly, but not all of it. The majority of items are quirky odds and sods and would suit wither of the sexes, such as the Magic 8 Ball* for just £3 delivered or the Pack of Stick-on Moustaches*for just £2 delivered.
You might be cutting it fine for teacher's presents but for just 87p you can grab Miss or Mrs whatever a lovely pen. Available in two designs: Je'Taime Printed Pen* and Je'Taime Eiffel Pen*.
Why not treat yourself? I just think these Koala Bear* and Scottie Dog*slippers are ace and are now only £6 and £7.50 a pair delivered.
Thanks to nicolejazz11 @ HUKD