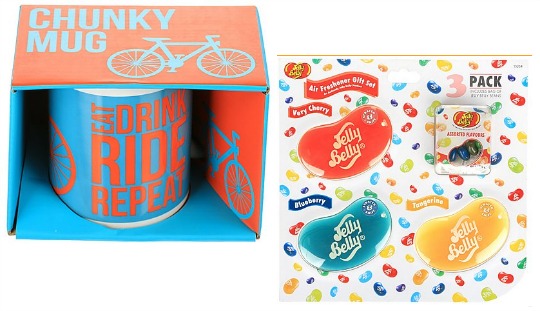 When you think of Halfords you think of bikes and motoring "stuff" not stocking fillers. That is maybe why they have amazing reductions on LOADS of cool items to stuff those stockings with. Plus it's not all tyre pumps and furry dice either. Items start at a piddly 50p and there's some great novelty items for the whole family. It's definitely worth a scope.
Everyone needs novelty Moustaches* and Sideburns* in their stockings right? Both have £3.50 off making them just 50p! Items like this are always great fun especially when you stick them on the baby! What about some novelty Oil Drum Shower Gel*? That too is reduced from £4 to 50p.
This pack of three Jelly Belly Air Fresheners* are a bargain at £4, considering they are normally £10. I paid £3 for one out of Asda two weeks back! They make the car smell fab.
Some of the items are for delivery, but some are only reserve and collect. My advice is to reserve and collect for FREE so you can collect them from your local Halfords store in time for Christmas day.