St Eval Christmas Candle Review

What do you think of when you think of Christmas?
Presents, chocolates, trees, cosy evenings in with a glass of sherry along with candles and open fires burning?
Will any old candle do, or does it have to be a Christmassy smelling one?  And what does Christmas 'smell' like anyway?!
We were sent a St Eval Orange and Cinnamon Fragranced Christmas Tin (a candle in a tin!) to review and we sent it off to PlayPennies mum, Selina, to see what she thought about it.
"I'm a bit of a Christmas connosieur," Selina tells us, "I've collected a lot of Christmas bits and pieces over the years and take great pleasure in transforming the lounge, particularly, into something that looks like it's come straight out of a Christmas card."
Now you know why we choose this particular PlayPennies mum for this particular review - we wanted someone who was a bit of a Christmas 'pro'.
"I have scented candles in my house all year round," admits Selina, "vanilla has to be my most favourite. But at Christmas you can't beat a festive smelling candle, in my opinion."
But what is a festive smelling candle?
"What Christmas smells like is all a bit subjective really, and one person's  ideal smelling Christmas candle is another person's olifactory nightmare!
I was in Tesco the other week with my eldest son and we sniffed our way through 'mulled wine and crackling fire', 'spiced apple' and 'glistening snow' candles.  We never knew that glistening snow smelt of cheap toilet cleaner!" laughed Selina.
"The lady who was a bit further down the aisle than us obviously thought it smelled lovely though, as she had three in her trolley."
We had a good sniff of the St Eval Orange and Cinnamon fragranced Christmas tin before we sent it off to Selina, and we all agreed that it smelt Christmassy but couldn't be sure if that's because it reallt did smell of Christmas, or because we were being told it did.

You see, the St Eval Fragranced Christmas tin is decorated to look 'oldy-worldy' and be reminiscent of Christmas eras past.
"I loved the look of the tin," gushed Selina, "it's very different to the normal glass bowl candles and felt very heavy and substantial when I took it out of the box (if a candle can feel substantial!)."
St Eval claim that their Fragranced Christmas Tins have a burning time of approximately 45 hours, so we asked Selina to time the total burning time of the one we sent to her.
"I have no idea how some candles seem to burn out in no time, whilst others of the same size just seem to go on and on," comments Selina, "but the total burning time so far has been 48 hours and there is still about one fifth of the tin still to burn."
Selina also told us that it took up to 10 minutes for the room to be filled with the smell of orange and cinnamon from each time it was lit; they are pretty big rooms though, by all accounts, and is on a par with the other scented candles she burns.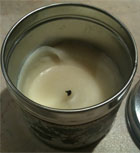 "The thing that impressed me most about this candle, fragranced Christmas tin or whatever it is, is how the sides of the wax fold in on themselves so the whole candle burns away.
Rather than burning an ever-narrowing hole in the middle of the wax and leaving lots of it around the outside...if you see what I mean?"
Yes we did, and all agreed that we found that incredibly annoying!  If you burn a candle, you want to burn all of it not just half and then have to throw the rest away.
"Everyone who's come to my house over the last month and a half has not been allowed to leave without smelling 'the candle', even the postman!" Selina reveals.
"There was a pretty even three-way split - some of them fell in love with it the moment they tooke the lid off and sniffed, saying it definitely smelled of Christmas. Some were pretty non-plussed and 'supposed' it could be Christmassy and the others didn't like the smell or the way it looked."
And finally...
The St Eval Frangranced Christmas Tins come in three 'flavours': Orange and Cinnamon, Figgy Pudding (we liked the sound of this one!) and 'Inspiritus' which smells of spices and cloves.
They retail for £9.95 each and are available from the St Eval Candle Company.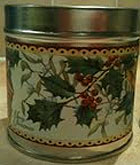 "I appreciate that some people will feel this is a bit pricey for a candle, and if you compare it to the cheap glass scented candles you can get from the supermarket then, maybe.
But I don't have a problem with the price  at all," concludes Selina, "I think you get what you pay for when it comes to this sort of thing.

This candle has been burning for EVER, smells delicious, looks the part and I'll be quite sad when it's finished. Although, having said that, I'm rather looking forward to finding festive uses for the tin afterwards!"
So there you have it!  Pricey for some, maybe, but not for others; smells Christmassy for some and not for others but burns forever...well, at least 50 hours or so anyway and you get a lovely festive tin to put things in when it's finished burning too.