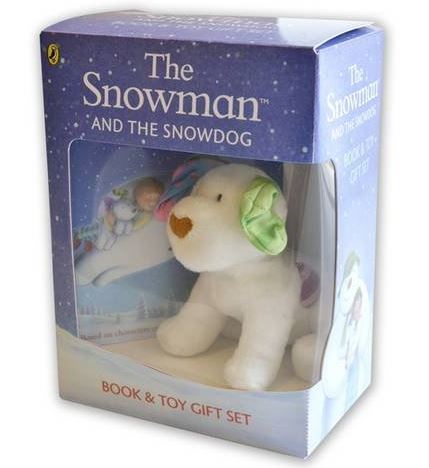 I know it's a little early to be ordering the turkey, but it's never really too early to be planning on saving pennies in December and if you have the space to wait it out for December, these could be great little stocking fillers,  or presents for school friends. The Snowman is huge every year, and this Snowdog puppy brings the story out of the book. The gift set is £5 on Amazon, so you'll be paying for delivery if you don't have Prime, or just buy two and you have two gifts sorted. Delivery will take 3 - 5 weeks, but it's not like you're on a schedule. Also, the Snowdog soft toy on it's own is £14.99 at the moment.
According to the reviews, some people were quite surprised by the size of the dog, saying it's quite small at "about 17cm from nose to tail". The majority of the reviews,  however, have given this Christmas set 5-stars with comments like "What an adorable little Snowdog and storybook. He is in a lovely plush fabric so perfect for little ones ( and big ones) to cuddle. The Snowman and Snowdog book is just the right size for children to hold."
If you are or have a fan of the story, it's not a bad price at all, and come Christmas I'm sure you'll be glad for a few gifts already packed away.
Thanks to mucklebones at HUKD