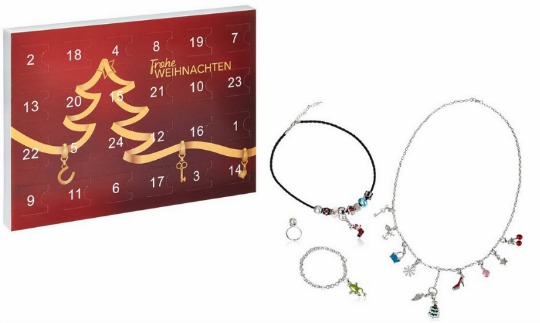 We have told you about Advent Calendars containing beauty, chocolate and toy items. Here's one that's filled with jewellery. We think it's at a really good price over at Amazon. It's just £10.69. Not too bad for an 'alternative' Advent Calendar. If you are looking for one for a pre-teen or teenager then this is ideal. It's not too babyish but not too grown up either.
What do you get in the Smart Jewel Jewellery Advent Calendar? A Choker Necklace, a Silver Coloured Necklace, a Silver Coloured Bracelet, a Silver Coloured Ring and lots of Colourful Charms that will fit on the Necklaces and Bracelet. Some of the Charms are Christmas themed and some aren't.
It's fashion jewellery that is behind those 24 doors, but at just over a tenner I doubt you were expecting solid Sterling Silver. This seems like a fun Advent for those that are just a little too grown up for the chocolate ones.
You can get FREE delivery on the Smart Jewel Jewellery Advent Calendar if you have Amazon Prime or are spending £20 or more. If you don't have Amazon Prime and don't wish to spend as much as £20 then delivery will set you back £3.30.