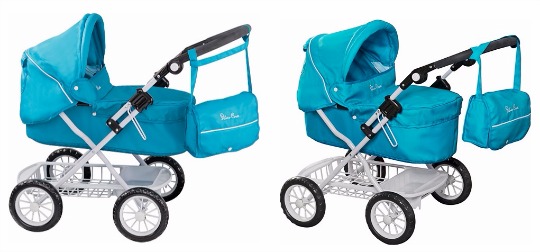 Does your little one have a dolls pram on their Christmas list this year? If so you cannot go wrong with this Silver Cross Roamer Dolls Pram down to just £29.99 from £46.99 at Argos. My little girl has this pram and she loves it, it is great quality and has all the features of a 'real' pram but shrunk down!
This classic style dolls pram looks so much like a real pram, it has several great features including an adjustable handle height, perfect for growing little ones. It has a large shopping basket tray underneath, great for storing all those baby essentials. The hood goes up and down so it is easier for little ones to get their dolls in and out easily.
One of the features I love is that it folds down really easily and goes completely flat, perfect for storing under the bed when not in use, which tends to be never in our house as she plays with it every day! This lovely pram also comes with a matching blue changing bag which can hang on the back of the pram.
It does say for ages 4 and over but my daughter was given this last Christmas, which was a month before her third birthday and the height was fine for her because of the adjustable handle.
Home delivery is £3.95 or you can choose to Reserve and Collect for FREE at your local store.