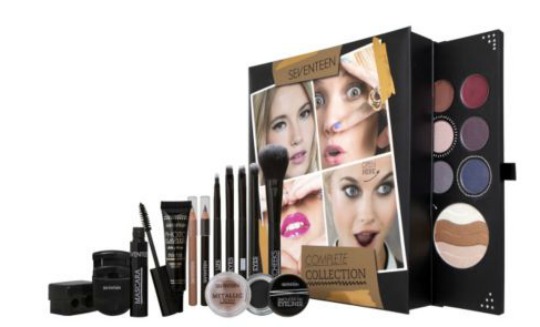 Boots is offering a fantastic deal on its 'Seventeen' Complete Collection right now. It's reduced from £35.00 to just £17.00.
Click here to get all made up at Boots*
If you're a make-up fan (or know someone who is) then this is going to make you very happy. It would also make a rather snazzy Christmas pressie.
This make-up set contains everything you need for beautiful eyes, lips and cheeks. Not only is the collection packed with make-up, giving you eye shadows, lip gloss, blusher, bronzer, metallic eye cream, gel eyeliner, mascara and Photo Flawless Primer, but all the essential tools are covered too, with make-up brushes, pencil sharpener and eyelash curler all included.
There are even expert hints and tips on creating the best looks, including step-by-step instructions for the ever-desirable 'smokey eye' look. (I usually only manage to look like I've got smoke in my eyes when I attempt that, so I'm sorely tempted to invest in this little treat.)
The set contains:
12 x SEVENTEEN Eyeshadows (Shades taken from Metallic Toffee Trio, Funfair, Peepshow Eye Palette, Vengeance Trio, Style Queen, Spirit, Regal and Mardi Gras. 23g total)
5 x SEVENTEEN Lip Glosses (Peachy, Pink Ice, Fuzzy Yellow Petal, Nude and Very Berry. 5g total)
SEVENTEEN Blusher (Bramble Frost )
Limited Edition SEVENTEEN Bronzer (7.5g)
Limited Edition SEVENTEEN Metallic Eye Cream (5.5g)
Limited Edition SEVENTEEN Gel Eyeliner
Limited Edition SEVENTEEN Black Mascara (8ml)
SEVENTEEN Black and Coffee Eye Pencils
SEVENTEEN Photo Flawless Primer (15ml)
5 x Make-up Brushes
Pencil Sharpener
Eyelash Curler
Pretty awesome, yes?