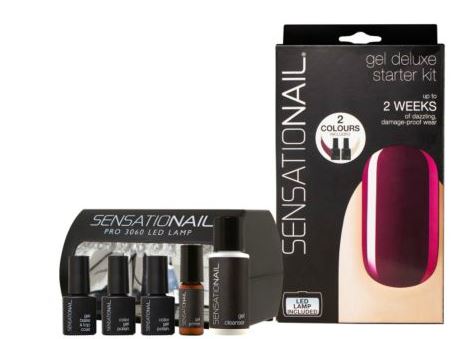 Boots' Star Gift this week is pretty awesome. It's a SensatioNail Deluxe Starter Kit reduced from £105 to £45, so better than half price.
This week's Star Gift has everything you need to do your own sensational gel polish nails at home. No dry time - just apply, cure, wipe and your beautiful SensatioNail nails are completely dry and ready to go.
Now, one of my best friends has this set and her nail always look great. Me on the other hand, not so much. Even when I've used her set, my nails don't last more than a day. I have no idea why! I just have no luck in the pampered hands looks department, but hey ho - that doesn't mean other's shouldn't have the fun and buy the bargains.
This kit includes enough for over 20 manicures/pedicures and comprises SensatioNail Pro 3060 LED lamp with mains adaptor, 2 full size colour polishes - Taupe Tulips & Sugar Plum (7.39ml each), a full size base/top coat (7.39ml), a full size Cleanser (27.2ml), Primer (3.54 ml), pack of 12 Lint-free wipes & buffer, plus the SensatioNail Removal Tool.
A fabulous pre-festive treat for yourself, or gift for someone who wouldn't normally spend the money on themselves.