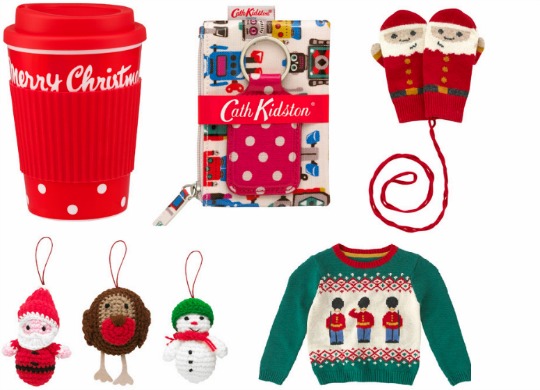 When I am Christmas shopping I always try to find gifts that are a bit different. However, the 'unusual' stuff normally comes with an eye-watering price tag. The Christmas Shop at Cath Kidston has some lovely items but a bit on the pricey side. Although spend just £30 and get 15% off when you enter promo code XMAS15 at the checkout. That turns those Christmas goodies into bargains.
Here are some of the lovely Christmas items you can get from Cath Kidston : Christmas Set of Three Zip Purses* just £20, Merry Christmas Travel Cup* only £8, Robots Zip Purse Set* just £8, Christmas Lanyard* only £3, Christmas Pocket Mirror* just £4 and
These are super cute too: Penguins Kids Mittens* only £14, Penguins Kids Hat* just £16, Guards Kids Knitted Jumper* £27.20 with code, Christmas Kids Knitted Hat* only £16, Kids Santa Mittens* just £14 and Set of Three Crocheted Christmas Decorations* only £12.
Remember, spend £30 or more and you can take 15% off of those prices!
You can Click and Collect for FREE or have your order delivered for just £3.95. Delivery is FREE when spend £40 or more.