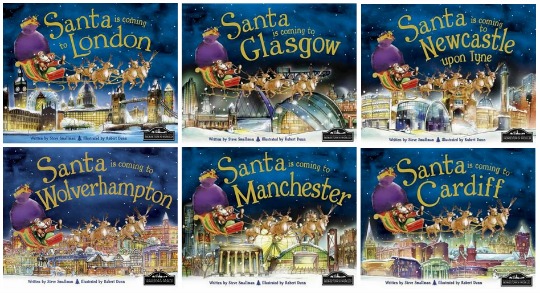 If you want to get the children in the mood for Christmas before the big day then Christmas books at bedtime is a lovely way to do it, and all through December we swap our usual stories for festive tales instead. One that we don't yet have in our house is one of these "Santa is coming to..." books where you get a story showing what happens when Santa comes to your town!
At the moment you can buy them for £4.99 with free delivery at Book Depository, and as there are more than 500 different locations to choose from that should cover a great many of you!
Each of these books features specific details and illustrations that are unique to each town, city, county or country that the book is about, so it's a lovely way to make Santa's visit a bit more personal to your children if the book mentions places that they know. The reviews are great, and it's such an unusual idea that I'm not surprised they are popular.
There will be places that are not covered by these book titles, but if your town doesn't have it's own book then there are ones that cover counties as well, so you may find that these still talk about places that your child will know. I am very impressed with the towns that they do include though, as even my own is included and that was a bit of a surprise considering the size of it compared to nearby cities.
I'm about to order one for my children to go with The Jolly Christmas Postman that I ordered a few days ago, so the Christmas reading pile is starting to build up!