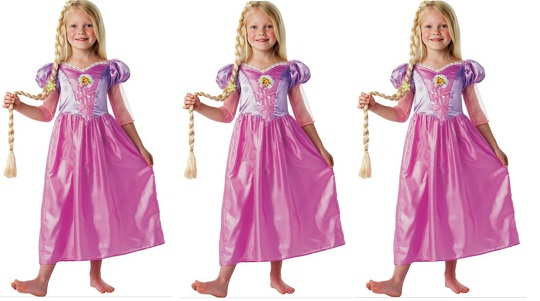 Rubies is one of the brands that has license to create all sorts of costumes from leading brands like Disney. They have Marvel and Disney Princess products (The Hulk outfit is genius) that cost around £14.99 each. Although you can get two for £19.99 at Argos at the moment, which is nice for the Christmas gift hunt!
So is this £14.99 well spent?
The packaging is neat and simple and mostly recyclable and inside you get the Tangled dress along with her hair. The hair is very clever actually. You have a hair slide on one side that sort of sticks to the hair. My daughter has fine curly hair which makes this particular type of hair fastening very difficult to attach. You also get this extremely long hair that can be divided in the middle.
Yes, the hair has a Velcro end in the middle so you can make it as short or as long as your child wants. This is a neat touch I thought and my child loved it. The hair is as thick as the picture makes it look too, but does look daft on girls with dark hair.
The dress is very well made. I must admit that having both bought and been given poor quality dress-up outfits made with terribly thin fabric, I am impressed with this. It is 100% polyester so don't expect velvet trim or anything fancy, but in terms of thickness and lack of strange scratchy bits, this is a winner.
My daughter hates dress-up that has things that tickle or poke her skin and loves this frock. Another plus is that you can get it in three size groups of Small (3-5), Medium (506) and Large (7-8) and can be neatly stored away in the same bag it came with.
I would happily say that this is a good price point for what you get; I would buy this as a Christmas gift for a Disney-mad girl any day. Also, that Argos* special offer means that you can get two for £19.99 which is nearly £10 per outfit, a decent price all round.