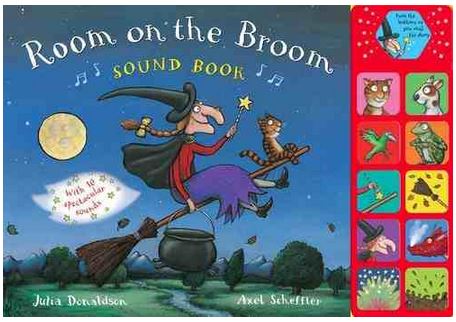 Children's Laureate Julia Donaldson's book Room on the Broom has been turned into a sound book, and offers fans a fabulous opportunity to fall in love with the book again. RRP at £12.99 it's also available at Asda for £6, but this price at Amazon includes delivery, so it's worth not paying for parking or driving into town for me!
Join the witch and her cat, a dog, a frog and a bird on a NOISY bumpy broomstick ride in this interactive gift book with 10 amazing, magical sound effects.
This is a larger than usual hard back book with a panel down the side containing ten buttons, each with a different sound effect relating to the story (a cat, dog, bird, witch and so on). We have another of these titles, and they are brilliant. The children love the sound effects and if these are anything like the one we have, they're pretty realistic sounding too, rather than tinny.
The pages are printed on paper, not board, so it may not be ideal for very young children to 'read' on their own, but ideal for reading together.