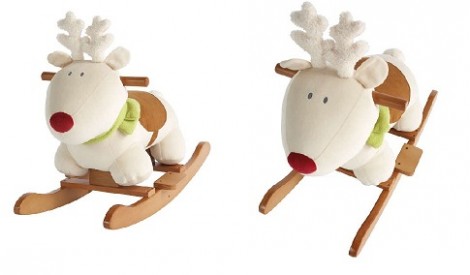 The Rocking Reindeer that was reduced to £25.00 last week has been further reduced to £20.00 at Mamas And Papas.
These are just so superbly cute, they make me go all squishy inside. My daughter has something similar, a horse with a red and green scarf and a Christmas hat, and it's one of the biggest smile- inducing toys. In fact, sing 'Horsey, Horsey don't you stop, just let your heals go clippity-clop' to her and she'll toddle over to it, hop on, and start rocking herself. Sickly sweet to me, but probably just sickly to you ;)
So this little guy has crinkle material in his antlers and ears, which is great for the little ones who still love all those sensory materials. He also has removable foot rest, which does tend to give the reindeer rocking animal a little more lifespan, as it really is primarily for a little one just sitting up (or around 9 months) and onwards.
The saddle is soft suedette so no scratchy leather, which is a bonus and the green fleece scarf is not so Christmas that it would be weird using it or giving it as a gift at another time of year – despite the animal itself being a reindeer!
The dimensions are around H: 45 x W: 27 x D: 64cm and the seat is at around 32cm.
Sadly, it's too late to order the Reindeer Rocking Animal for this Christmas, but it could certainly go in a cupboard somewhere ready for the next one, especially at this price.
Thanks to brummie02 from HUKD