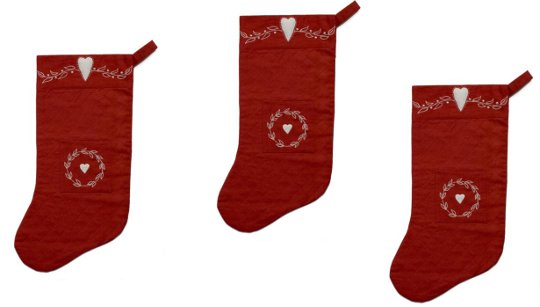 Don't worry! This isn't the first post for Christmas 2012! In fact, it's part of Lula Sapphire's clearance stock, and this (gorgeous) red linen Christmas stocking is reduced from £15.50 to £5.
The Red Linen Stocking at Lula Sapphire is a beautiful and elegant Christmas stocking that will look fantastic hanging next to your Christmas tree.
These are generously sized at 52cm so they will fit all those Christmas goodies, and the are very stylish and not at all garish.
They're also made of Linen, so they won't lose shape like felt stockings do and they won't  get things stuck in them or unravel like wool stockings do either.
These are clearance items, so stocks may be limited, although there's no indication on the site of that.
Standard delivery takes 3 – 5 days and I suspect this is a small item, which will cost you £1.50  to have delivered to you by Royal Mail.