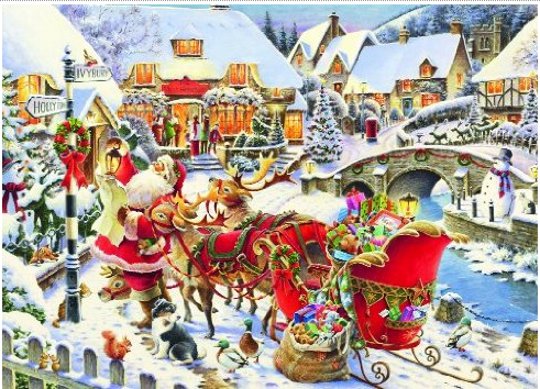 Ravensburger have brought out a limited edition Christmas puzzle for 2011. It's called Which Way Santa and is a perfect build-up to Christmas puzzle – no pun intended – to set the mood for the big day, I think. It's reduced by 23% from £12.99 to £9.99 including postage, so could make a lovely family project for Boxing Day too.
Which Way Santa is a 1000 piece puzzles with richly detailed, sturdy puzzle pieces made from strong premium grade cardboard, with linen finish print to minimise glare on puzzle image. It was illustrated by British artist Roy Trower, and is probably quite complex with all it's small details, which is why it's suitable from ages 12 and up.
Once built the puzzle measures a respectible 70 x 50 cm, so you'll need a nice working surface to start off with.
I never know what to actually do with puzzles once they're built. It seems like such an anticlimax to just break them up again, but you can't exactly frame every puzzle you ever build... unless you have storage space and can rotate them? Either way, puzzles are great for seeing a project come to fruition, and apparently good for developing logic and so on. And then there's the fact that they're good, interactive family fun, and this gorgeous Which Way Santa is sure to set the mood.