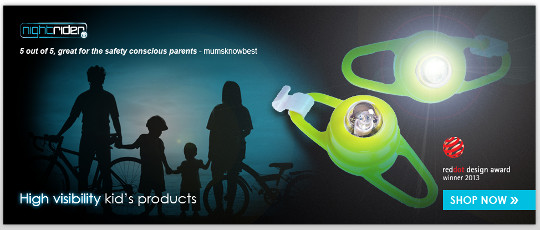 Proviz, the high visibility sports wear specialists, sent us a bicycle helmet and 'buglights' to review. Proviz provide a range of safety gear for sporting activities for both adults and children.
The helmet was too large for my daughter, so we're a bit non-commital about it at the moment, but the BugLights are fabulous.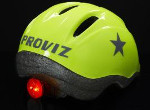 We received the Proviz Eris, a bright yellow bike helmet with a silver star on the side and a rear red light.
When we first opened it, I thought it was an adult helmet as it is really very big and bulky. I first asked my husband to try it on, but then we realised that it was far too small for him, so I tried it and ditto, way too small. It was too big for my three year old though, so it's something she's going to have to grow in to.
Having said that, between the straps that are fully adjustable on both sides, and the removable headring, which is also quite adjustable, I think she's just on the cusp of not fitting into it, and I'm sure that will soon not be a problem.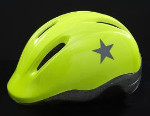 At the same time, it is a really bulky helmet, which I'd like to think means it provides additional safety and protection, but at the moment I think it's just too heavy and her first helmet is still a better option for now. Unfortunately the size guide on the website doesn't have information on helmets so you're kind of left to guess.
The helmet comes in two sizes, 48 - 53 cm is small and 53 - 58 cm is medium. We were sent the medium, so if I had to venture a guess, I'd say go for small for under 4's and medium for over, but as I say, that's a guess. You can measure your child's head. The weight of the medium helmet is 314g.
The rear light is an LED light, operated by two LR1130 batteries, and switched on and off by a small click button on the light. It comes with two batteries, but mine arrived flat which was super annoying because not only don't I have spares in the house, but the website doesn't tell you what they are, so you have to wait till you have the helmet in your hands to find out it's not working. Very frustrating with a toddler now eager to go for a cycle.
Once I put new batteries in though, it all worked fine. The light compartment is easy to open, and batteries are quick to replace and soon you have a red light at the back of your child's head to make them more visible to motorists.
The helmets are £22.99 and are delivered free of charge.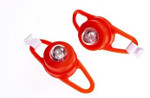 The Bug Lights are brilliant. We don't have a pram or buggy, so initially I didn't think we were going to be able to use them, but we are! Because of the way they are designed, you can clip them to literally anything. We have clipped them to the pedals on our SmartTrike.
There are four settings on the lights - fast flash, slow flash, solid light and off - which are activated by pressing the light itself. Each click activates a new setting. You can bend down and switch them on with your hands, or you can just press them in with your feet when they're at the bottom like ours are.  You can, however, attach them to buggy handles, to the side of a buggy, the handles on a trike or bicycle or scooter or anything really! They simply clip on and as long as the thing they're wrapped around is as thick as the straps are long, they don't budge. They also have a bit of stretch in them,  probably because of the rubberish material they're made from.
Buglights are available in blue, red, green, yellow, black and white, although all the lights are white. They cost £12.99 for two and are entirely worth it!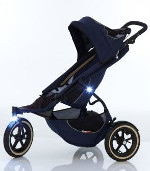 The Good
There's nothing bad about a product that makes your child more secure and safe on the roads. 

I love, love, love the BugLights. I think they should make bigger options for strapping around children's ankles!
The Bad
I find the website a bit lacking in information, especially for the helmet.
The Verdict
I don't think there's anything wrong with the helmet, but of course we didn't test it with a headlong crash. It seems good though and it has good reviews, and we'll put it in the cupboard for a year from now.
The BugLights are a fantastic idea. I had a pushchair once with headlights and everyone thought it was very posh. BugLights bring the posh to any mode of transport your child may use, while at the same time being a practical way to make you all more visible and therewith, safer.