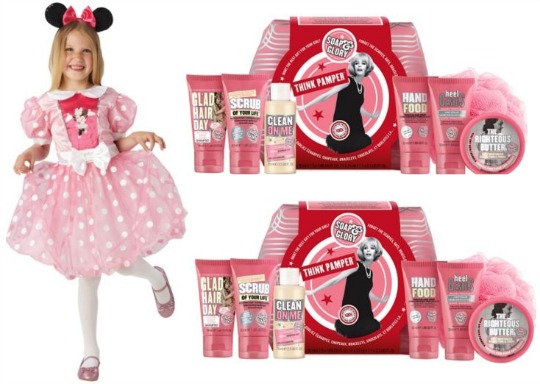 This is one of the highlights of my year, THE BOOTS SALE! It has started this morning and I couldn't be any more excited than I am. There's up to 50% off gift sets, fragrance, toys and so much more. Boots.com tend to reduce items even more come mid January, BUT you run the risk of missing out on a lot of the good stuff, so if you have had your eye on something but you didn't want to pay full price, then get over there now!
Tis the season to treat yourself to some cut price goodies on Christmas Eve from Boots.com. Like Soap and Glory? There's heaps of it half price just now and every set I have found seems to have the full 50% off. Like this Soap and Glory Think Pamper Gift Set* for just £9.
Of course, you might be a kind soul and buy something for the kids...this Pink Glitz Minnie Mouse Costume* has MORE than 50% off and has been reduced from £23 to just £8.62.
There's so many bargains to be found, so don't miss out! It costs £1.95 for Click and Collect if you spend sub £20, but it's FREE if you spend above that. What a great excuse buy that extra little treat!