Premier Inn Family Rooms Review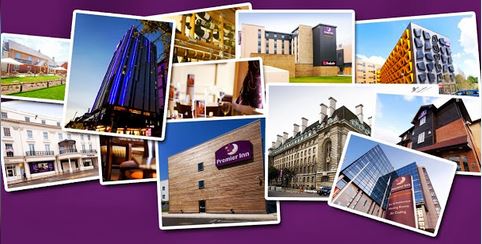 Since becoming a part time employee and doubling the size of our family it's fair to say that our outgoings have increased as our income has reduced, and one of the main things to take a hit has been our travel lust. My oldest daughter had been to 20 countries by her second birthday, and since then, we've barely had a holiday at all, so when we recently had occassion to go away for a few days, we were really excited at the prospect.
Rather than go to a resort or anything, we each picked somewhere we'd like to go for a day, and chose to spend a night in a hotel, which meant we got to visit three Premier Inn hotels around the country in short succession of each other.
The first was the Premier Inn in London, Tower Bridge. We had an incredible room in this hotel. The 'family room' was the size of our living and dining room put together. There was a huge king sized bed, a single sofa bed, and they added a mattress to the floor, which my toddler was super excited about.  We had all the amenities we could want in a family room, including TV and wifi, which is billed at £3 a day. The breakfast was plentiful and I felt like it was Christmas morning when I found the coffee machine to be dispensing Costa Coffee lattes.
We were a little concerned about being below ground level with window out to the street side, but it was so quiet, we all slept amazingly.
This hotel had no parking, which was a pain, but we managed to find free on street parking.
Our next stop was in Aylesbury, after a day visiting the Roald Dahl Museum and the Roald Dahl Children's Centre. We had a slightly hard time finding the hotel as either our GPS wasn't functioning or the post code is a little off, but we got there in the end. Free parking was  a bonus, and as with our previous stay, the staff were really friendly and accommodating, and gave us activity packs for the children to do. This came in really handy when we went to the attached pub, where we had two main courses for £10 - bonus, and it was good too.
This hotel is a little older, but was still pleasant enough. Our room was smaller, but sufficient and again, we had a sofa bed and a floor bed, as well as a large double bed.
Breakfast was in the pub again, and while it was okay, and made to order rather than buffet style, we had been spoiled in London and weren't as impressed. Had we been there before London, I'm sure we would have been happy though. Overall, we couldn't complain too much. It was still a great stay and a great break.
For the final stop, we chose two nights in the Premier Inn, Brighton. This hotel was a amazing as the one in London. It was modern and new looking, despite the first impressions as you walk into a shared lobby. The room was fantastic, with two sofa beds and a lovely bed. We were up on the sixth floor so the view was phenomenal, over Brighton, the sea and the pier. We were there on Bonfire night, so we had an amazing view of fireworks over the city.
Again, it was so very quiet, and we had an amazing couple of nights' sleep.
Breakfast was fabulous here too, with plenty to choose from, very helpful staff, and just generally a pleasant feel and atmosphere, despite the fact that most guests seemed to be business people.  The only thing we really didn't like about the Brighton Premier Inn was the fact that the only parking was at an NCP parking lot at £25 a day! That adds a fortune to your 'budget' gettaway, especially if you weren't aware of it. They should really make that clear on the website!
Overall, our three experiences at three different Premier Inn's was fantastic, and going forward if we have to book a night away anywhere, we would use them, for sure, if nothing else, because they were so accommodating and accepting of families. So, if you're thinking of a night away, or a little family break, I heartily recommend Premier Inn and might just see you there!