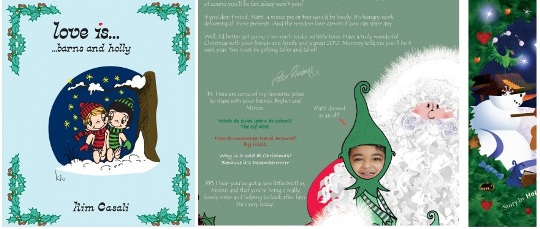 This is a brilliant deal from It's Your Story just for you lovely PlayPennies readers. They are giving us an exclusive 50% off all the Christmas stories in the range and some of them are so gorgeous that your children will be delighted to receive them. We got one of these for our daughter last year and she absolutely loves it.
Before I delve into the wonders of discounts and bargains, I want to just add that, if you do go for this deal make sure you use a really awesome photograph. I was rushed so the photo isn't that great and I do regret it. Ok, on with the deal…
•Promotional discount: 50%
•Valid on: All Christmas titles
•Valid till: 18 December 2011
•Promotion code: PLAYPESTORY50
This year It's Your Story have released a Santa Letter for £4.50 (only £2.25 for us with our tasty 50% off!) that is completely personalised with a photo of your child. It's very cute and I reckon they will love it.
Other titles include the Love Is…Christmas book (so cute!), Where's Louis and the Snowman book. Just remember that the ace discount is only for items in their Christmas range.