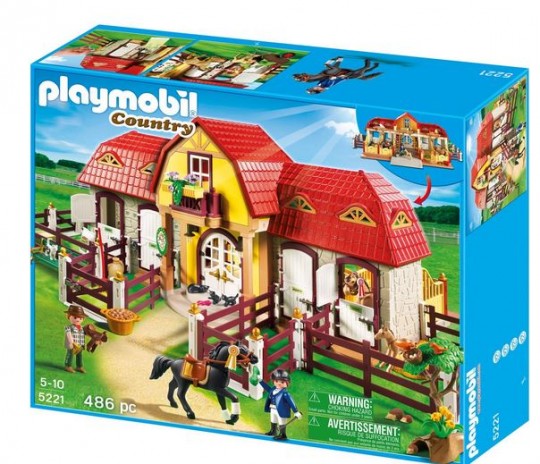 Let me tell you a story about where Playmobil saved the day. It was early October and it was my daughter's 4th birthday. I had bought a trampoline for her, as she loves bouncing and early in the morning, I excitedly set it up - only to find it was way too small, and intended for babies and small toddlers! Imagine my distress! I literally sunk down into the sofa with my head in my hands, when there was a knock on the door. It was the postman, with the Playmobil Large Horse Farm with Paddock, an awesome present that totally saved the day!
The Playmobil Large Horse Farm has so much to do, it's a little hard to know where to start. 
The Playmobil set weighs 4kg, and yes, that is indicative of what's in it. There are 486 pieces, and it comes in pieces. This was the only down side - we opened the box and found it in pieces, which was very disappointing for my daughter as the almost two hours it took to put together, what with toddler help, and all, were long hours.
The stables all slot together easy enough and then the paddock forms a fence around the back of the building.
The details in this play set are, in short, incredible.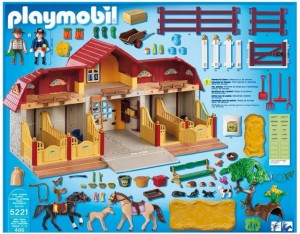 You get three horses in various sizes, with removable saddles, saddle blankets and the bits you hold on to. There are two people, a jockey and a stable boy, and various stable accessories, like a wheel barrow, spade, pitch fork, broom, and other tools. You get hay, stable hay for 'bedding', horse feed, carrots and bags and baskets and containers for use around the stables.
There are brushes for the horses, and a pitcher, mugs and lunch for the people. There are our cats - three black and one black and white, and birds. The details are so intricate, that there's also a large tree with a nest and removable eggs in the nest too! It's absolutely awesome.
There are also flowers for the garden, grassy patches, and a railing flower pot.  There's also a bench for relaxing in the garden, and a hedgehog family.
And just to remind you how awesome this stable is, there are even some winners ribbons for the horses to decorate the walls with.
There is seriously so much here, it's incredible.
A few things to bare in mind is that you can mix and match, so if you have other Playmobil bits you can add them to this one. You can also use just the stables, or the stables and the paddock, although that does make it a bit of a larger toy for playing with.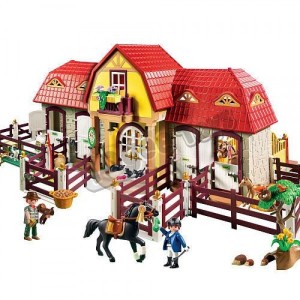 While my daughter is four and plays with it, I actually in this case agree with the age recommendation of six plus, but not because of the small bits - even my 1 year old likes playing with it - but because the small bits go missing. Seriously, I would be surprised if a complete scour of the house reveals even half the bits again.
On that note it would have been really nice to have a carry case or something for the bits not in play.  If I had it to do again, I'd probably take my time going through the pieces, and keep some of them aside for when my girls were a bit older - for example the eggs from the nest. I've fished them out the hoover twice already.
An older child with a better appreciation of toys would be much more suited to this Playmobil set. Specially because the set costs anything for £79 to £100, and is really not 'cheap'.
It is incredibly well made and very sturdy and if you want a gift that will be loved for a long time, it's fabulous.
The Good
Awesome set, worth hours of  play
So much to do, you could swap out the toys, take bits away, add them back later or add other sets into the mix.
There are loads of animals in the set which my daughters love
The Bad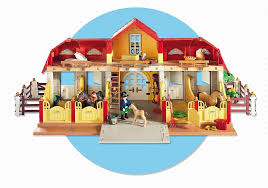 I'd have liked a carry case for when it's not in play, since there are loads of little bits.
The Verdict
We're a LEGO family, really, and I feel a little like I'm cheating on LEGO here, but it's sure worth it. The Playmobil Large Horse Farm with Paddock set is so good, my husband I still muse over it from time to time. It makes one awesome Christmas present, for sure.