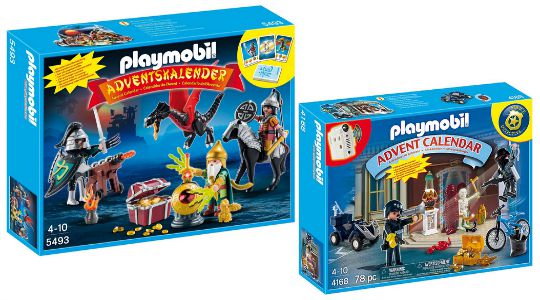 Advent Calendars are getting fancier every year, but also more expensive. Who can afford to pay £20+ when you have more than one child?
You may think we are jumping the gun a bit with all this talk of Advent Calendars, but wait until you see this offer. Amazon and Toys R Us have the Playmobil Christmas Advent Calendar in Dragons Treasure Battle for just £9.96. The Police one is £9.96 at Toys R Us only. This is a great price! These are super popular and are currently priced at £20 from Tesco Direct, House of Fraser and The Entertainer. Be quick, we can't see these lasting at this price.
Sure, when we were little Advent Calendars were all about the chocolate, but just like anything else, they are evolving. In my mum's day all she got in her's was pretty pictures to look at.
These Playmobil Advent Calendars contain 24 surprise toy items and those vary from Policemen to Dragons, depending on which one you have gone for.
Delivery is FREE from Amazon if you have Amazon Prime or spend £20 plus, otherwise it'll cost you £3.30. With Toys R Us, you can Click and Collect for FREE.