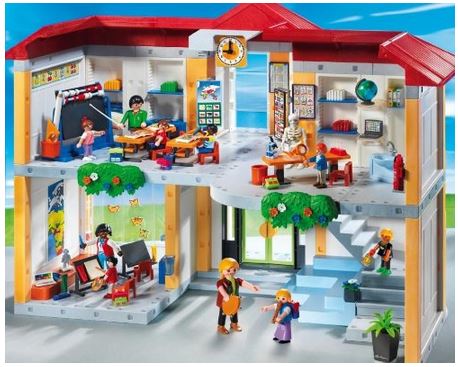 Amazon have a Playmobil 5923 Small School on offer for £71.15. The next best price I can find on this is £115 at Argos, so this is a great price, especially if this is anywhere as good as the stables we reviewed recently.
This is the small school, not to be confused with the big school.
"The Playmobil School Building allows children to recreate their favourite lessons in the playroom. There is a maths room with functional blackboard and abacus to help with numeracy skills. The science room contains a microscope, test tubes and a full size skeleton, similar to the equipment that would be seen and used throughout the school day. There's a lot of activity in the art room with painting and drawing sets, great for giving you creative ideas for your own pencils and paper.
During break time the music group practice in reception for all the children to hear and sing along; why not learn your own musical instrument to join in with the band?"
There's loads of reviews around the web about this product and the biggest negative is that it take about 90 minutes to set up, so if you are planning on giving this set as a Christmas gift, perhaps build it first, then wrap the school house and the accessories again.
The Playmobil Small School comes with 10 Playmobil figures to join your class and over 60 accessories.