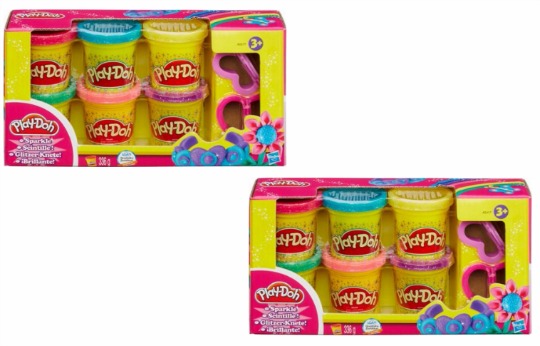 Looking for those small Stocking Filler items? This Play-Doh Sparkle Pack with Accessories is a great little gift for any child, especially one that loves glitter. Argos have reduced this set from £5.49 to just £2.69, which makes this very affordable indeed. It's maybe worth buying a couple if you have any party invites coming up.
The Play-Doh Sparkle Pack with Accessories contains SIX small pots of sparkly Play-Doh and two cutters in a butterfly and heart shape. That's a LOT for under £3.
This modelling clay set has great reviews on the Argos site and has even got a 4.5 star rating. I would say that suggests that this Play-Doh Sparkle Pack with Accessories is well worth the money.
With the weather set to get worse, you may be looking for a rainy day activity that won't break the bank. Why not grab one or two of these sets to keep the kids occupied?
You can Reserve and Collect the Play-Doh Sparkle Pack for FREE from an Argos store near you or pay £3.95 to have it delivered to your home.