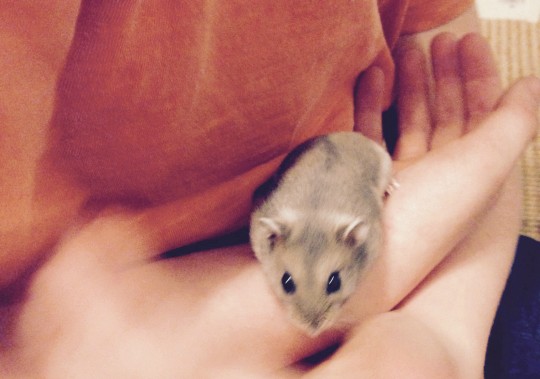 Everyone knows you're not supposed to give your kid a pet for Christmas.
It's irresponsible and ill-considered, and the novelty of pet ownership is likely to have worn off by New Year's Day.
But having just watched my kid's reaction to the early arrival of his Christmas present - a cute little Russian dwarf hamster named Gimley (you have to be a Lord Of The Rings fan to get the joke) - I've got to say that a pet might be one of the best presents I've ever given anyone.
Most of us grew up with the old 'A dog is for life, not just for Christmas' campaigns, so we know all about the fact that way too many pets end up abandoned and unwanted after being given as presents.
But this wasn't a decision we took lightly. We've had cats - we live in the countryside and they simply ran away - and we've debated at length about whether our lifestyle could cope with a dog. With three kids and two working parents we pretty much have full plates as it is.
But when I strolled into my local pet shop during a Christmas shopping expedition the other week and spied these cute little furry guys, I just couldn't resist. I'll admit that the fact they take up minimal space and don't live for decade might also have swung my decision to broach the subject with my son of asking Santa for a hamster.
He was excited beyond words, but nothing could have prepared me for the thunderbolt of joy that seemed to shoot through him when his Dad arrived home with a hamster cage in his arms.
No matter what other treats or toys he gets on Christmas Day, nothing will compare with the look on his face when it dawned on him that it wasn't just an empty cage.
Now I've also got to stress that this pet is my kid's responsibility. It'll live in his room, he'll be the one to feed it and clean out its cage, and he is under no illusions about that. I've explained in no uncertain terms that I won't be stepping in to take care of Gimley in the event that my son loses interest or gets bored of picking up tiny little bits of dwarf hamster poo.
And because of that, I can confidently say that if you're thinking of getting your child a pet for Christmas, I reckon it might be one of the best decisions you could ever make.
I love the way the prospect of having a pet is encouraging my kid to grow up a little bit; to consider things like whether chucking his stuff all around his room might be a habit that needs to be curtailed now that he's sharing his space with a furry friend.
I love the way getting the thing he has dreamt of for years lit him up inside. When my time comes to shuffle off this mortal coil I'm pretty sure I won't remember many of the gifts I gave my kids at Christmas, but there's no way I'm going to forget that little face when his Christmas wish finally came true.
So yes, a pet is for life and not just for Christmas. But did you know that dwarf hamsters only live for a couple of years? Just saying…