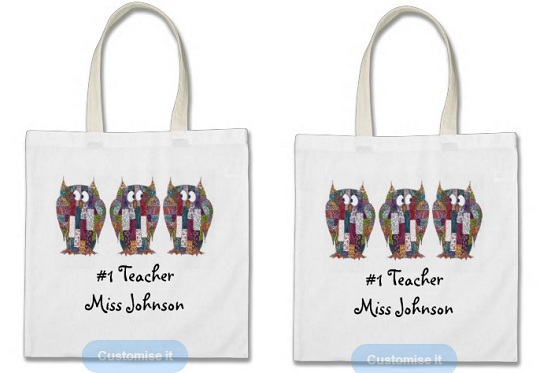 This environmentally friendly tote bag featuring three wise owls is the perfect gift for your child's teacher this Christmas. The best part – you can personalise it with her name and for just £8.50 you're not only helping to save the environment your child might just get into her good books!
This environmentally friendly tote bag offers great value and allows you to print your child's teacher's name on it giving it that extra personal touch. Perfect for her grocery shopping or carrying books into class, it has a slim design and comes with your choice of coloured handles with reinforced stitching.
I see owls on designs everywhere at the moment so I assume that owls are cool now and let's face it, your child's teacher deserves as many cool things as possible for managing to stay sane while controlling a class full of kids! It's so easy to personalise the bag. Just type in your teachers name (make absolutely sure you spell her surname right – you know how picky teachers are about spelling!!) and Zazzle will print and deliver.