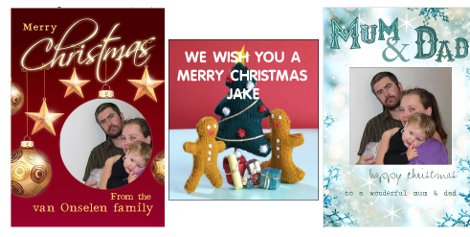 Small personalised Christmas cards are currently half price at FunkyPigeon at just 89p including UK postage
Fly on over to FunkyPigeon to personalise your Christmas Cards
Discount: 50%
Restriction:

Applies to A6 sized cards only

Promotion code: FUNKY514
Expires: 20th December 2010
Personalised Christmas cards can be a fun middle ground between traditional and e-cards – or if you find yourself out the country with time to kill, a perfect way to send cards without the international postage fees! I love the Christmas card tradition – it just underpins the warm and fuzzies of this time of year, especially since most social correspondence these days is just electronic!
FunkyPigeon cards come in a variety of themes and styles, from the traditional, to humorous and for specific people – your mum, girlfriend or uncle.
You can do a once off, general message to everyone and be done with your card writing in just a few minutes, or you can do them one at a time and write a personal message inside for each recipient.
Additionally, if a card isn't enough, there are ten options for gift cards ranging from books to clothes, music, food and toys.
Payment can be made by debit or credit card, or via Paypal.
Thanks to Not Ready Yet from HUKD