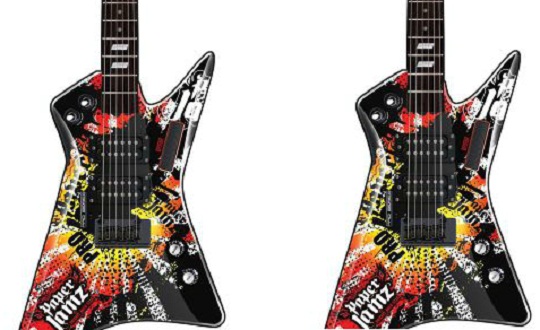 I really don't get Paper Jamz and now wish I had once taken up the offer for someone at PlayPennies to review them when they first came out. These dudes are HOT. Now Boots has reduced the price of this Paper Jamz Pro Series guitar down from £44.99 to only £8 which is a huge saving of £36.99.
The Paper Jamz pro guitar is now MP3 compatible so you can download any MP3 onto the guitar or choose from the hundreds, soon to be thousands, of specially formatted MP3 downloads from the Paper Jamz Pro Download Library.
You play the Paper Jamz like a real guitar complete with hammer-ons, pull-offs, palm mutes and slides. It has a built-in whammy bar and accelerometer to make the guitar really wail and there are 14 active frets for a wider range of notes. It is USB compatible, you can go freestyle and create your own music, and you get one built-in song with a voucher for three more online.
Thanks to Ludo at HUKD!