Paco Rabanne 1 Million Review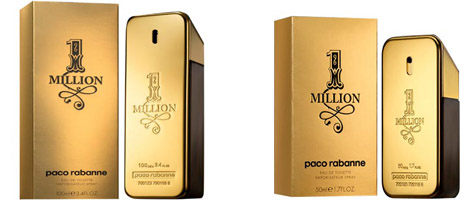 Ok, I really don't like the packaging on Paco Raganne 1 Million. I know it's supposed to look rich and masculine and like a slab of gold bullion, but on my man's nightstand it looks a bit like he's trying too hard. It is just that little bit too ostentatious to sit out in the public eye.
That said, however, the scent is rather lovely. It is not a smell for everyone, though. This is spicy, just like the product description says. It has a feeling of high seas and driving winds and a dash of pirate for good measure. Very nice on the right man with the right skin.
When I sprayed this on the men I knew, to see how it changed with different chemical compositions, it really did change quite sharply. On my husband it smelled rather wanton and overpowering but on my friend it smelled luscious.
It is quite amazing how differently we react to different perfumes. The heart notes on 1 Million include rose and musk, with top notes of blood mandarin and peppermint. The most powerful scent is definitely the amber spice that's incredibly masculine.
If your partner can wear heavy scents with aplomb then this is a great one for him. You really have to be the kind of person who can march that smell into a room. However, in spite of its heavy nose, I adore this smell and have even squirted some on my diary.
Whenever I turn the pages I feel a bit transported to a realm of Indiana Jones and adventure. Yes, I am a bit mad.
Where to buy: You can get this fragrance from The Perfume Shop who sell the 200ml for £53.09, the 50 ml fragrance and shower gel is £33.99 and the 50ml spray for £30.59.