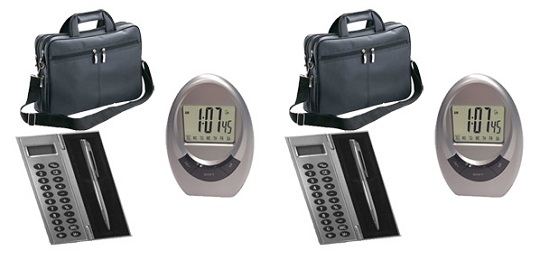 There are always those people on your Christmas gift list that you find it really hard to find a gift for. Why not get them this great Office Essentials Gift Set from Readers Digest? It has a smart attaché case, a mini-calculator and pen set and an oval alarm clock and is currently on offer for £10.99.
The elegant, lightweight and durable Smart Attaché Case has two generous-sized compartments for your laptop and documents, plus a separate pocket on the back. The case includes an inner pocket for your mobile phone and separate holders for your pens. Two additional pockets hold any extra essentials that you may need with you. The case also features a comfy, adjustable shoulder strap and carry handles for convenience.
The Mini-Calculator & Pen set is really handy to keep on your desk, next to the phone or in your bag so that you always have one when you need it.
With the Clear Oval Alarm Clock you need never be late for an appointment again. Select a 12 or 24 hour display, format your alarm times and hear an hourly chime. There's even a calendar!