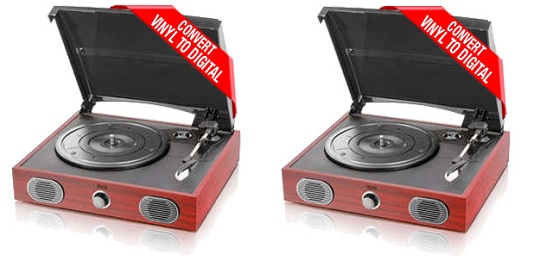 Using the promotional code below, Readers Digest is offering £10 off this Itek USB Turntable. The Turntable costs £69.99 normally so will be £59.99 with this great discount. Record all your old music onto your PC with this awesome gadget.
Click here to get the Itek Turntable from Readers Digest*
The Itek Turntable is such a cool gadget for anyone that still owns vinyls this Christmas. You can keep playing all your old records while at the same time recording them to your PC. To do this a USB port links the Turntable to your PC. All that great music that you can normally only play at home you can now play in your car or on your iPod too!
It's really simple; all you have to do is click on the link above and then add the Turntable to your basket. You then click on "Proceed to Checkout", fill in your details and click "Next". A summary of your order will then appear. Just above your name and address details area is a box with the message "If you have a voucher code, please enter it below:" Enter your voucher code VINYL10 into this box and click "Submit". Your screen will then automatically update. In the order items detail area you will now see a line saying "Coupon Discount" and next to it the discounted amount. Below this will be your new order total.