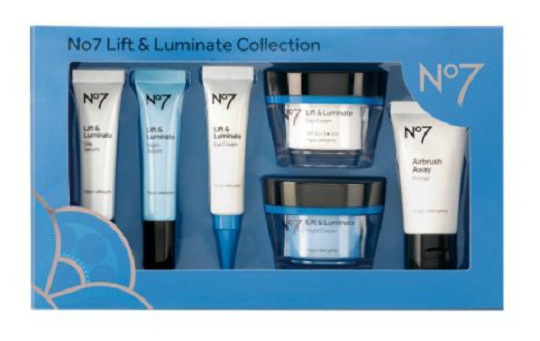 Save £57.45 when you get the No7 Lift and Luminate Collection from Boots. This fabulous set will make a great Christmas gift or travel set this holiday season. The set was £107.45 but has now been marked down to £50.00.
This complete anti-wrinkle collection is super for traveling, especially when you're trying to pack light. It is made up of five different No7 products to help you feel pampered and fabulous this festive season.
No7 Lift & Luminate Day and Night Serum duo work together to effectively target the three key signs of ageing in older skin: uneven pigmentation lines, wrinkles and lack of firmness.
No7 Lift & Luminate Day Cream targets the three key signs of ageing in older skin, it is specially formulated to restore firmness and radiance whilst also visibly improving the appearance of lines and wrinkles and protecting against new ones.
No7 Lift & Luminate Night Cream works mini miracles while you sleep. No7 Lift and Luminate Night Cream is a deliciously rich, easily absorbed, hydrating cream which sinks into your skin, leaving it feeling instantly softer, more supple and moisturised.
No7 Lift & Luminate Eye Cream sinks softly into those little lines and wrinkles, smoothing them out.
No7 Airbrush Away Primer allows you to flaunt picture-perfect skin this spring. Apply before foundation for front cover perfection.