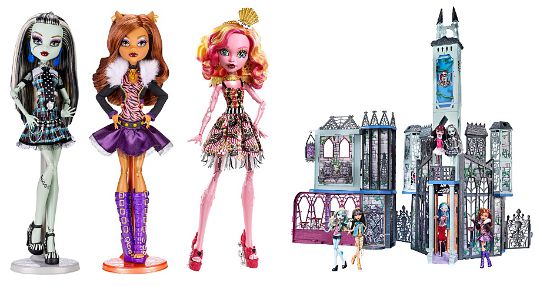 Asda have just stared an offer online with 30% off selected Monster High toys so if these are on any Christmas lists then these are a great offer. There are dolls and toys starting from £12 each, the best price around right now.
There are single Original dolls for £12, Exchange Programme Dolls for £15, Boo York ones for £18, and lots of oher sets with 30% off. There's even a third off the huge Monster High Deadluxe High School Playset, down from just short of £150 to £105! Still a lot but a saving of £45 is not too shabby at all!
The only way to beat these prices is perhaps the current 3 for 2 toys offer at Argos, as that could work out a few pence better if you need 3 things. Make sure you do a quick check there first, but if it's just one thing you need then this still works out the best value.
Asda never tell you when their offers finish so it's very much grab them while you can, as online toy offers seem to last for days rather than weeks. You can click and collect for free form stores of home delivery charges are from just £2.95.