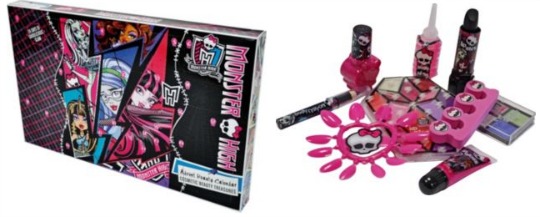 Still not bought an advent calendar for your daughter? Here's one that may suit a fussy tween, the Monster High Advent Calendar at Argos. It was £19.99, yes apparently so, then down to £17.99, still crazy, but is now only £8.49. Which I am sure you will agree is much more like it.
We have all seen the Lego/Playmobil/Moshi Monsters "alternative" Advent calendars, but I often thought that they could do with something less babyish, and more girly. Here we have it, albeit a tad goth, but then apparently that's "in" just now, along with all things vamp and zombie.
What do get in this Monster High calendar? Cosmetics with a gothic edge like black lipstick, lipgloss, blusher, false nails, eyeliner, garish eyeshadow and peelable nail polish. Plus stickers and all the usual bits that you will hate but they will love!
Monster High is certainly popular amongst all of the 7-10 year olds that I know. I will warn you that the make up included in this will no doubt make your child look like something that would lurk around in a cemetery at night, but I guess that's part of the fun of growing up!
Save on the £3.95 delivery charge and collect your from your local Argos store.