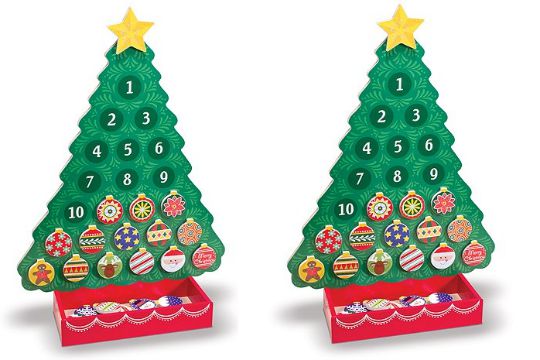 If you are looking for something a little different for your advent calendar this year then this is very special and can be used every year. The Melissa & Doug Countdown To Christmas Wooden Advent Calendar is £10.62  from Amazon seller.
This is a magnetic wooden tree with numbers 1 to 24 on and magnetic wooden baubles to attach to the tree. Rather than a regular advent calendar where you open the door with the date on it, this on comes with 24 baubles to attach to the tree so you can see how many days left until Christmas. The baubles can be stored in the wooden box that also adds as the tree base, and there's even a star for the top of the tree as well.
The reviews are all great, and many of them say how much fun it is for children to choose a bauble to hang on the tree each night, so that by Christmas Day the tree is completely decorated.
It's a lovely looking Advent Countdown Calendar, and I really like the fact that this can be used every year, so it becomes one of your very own family traditions.