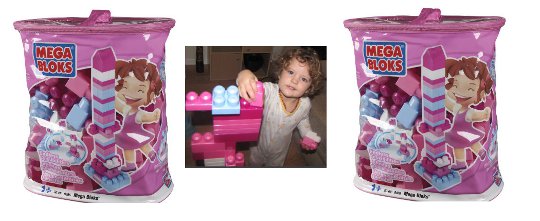 Everyone knows what Mega Bloks are, right? Well, actually no. Apart from the fact that they're blocks and a little Lego or Duplo like, if you've never had Mega Bloks, you don't actually know what they're like!
My daughter received the Pink Bricks in a Bag Mega Bloks from a friend for her birthday, and she really enjoys playing with them.
The pack we received has 80 bricks, some with just one 'spike'  or whatever it's called, and some with up to six. The bricks come in a dark pink, light pink and white, with a small smattering of baby blue bricks thrown in for good measure.
The bricks are very light – much lighter than their size would lead you to think, especially if you're familiar with LEGO and Duplo. I find the plastic to be really thin too, so as a whole they're not as sturdy or solid. That said, they're great for little hands, and too big for (most) little mouths, but even if they were able to get them in their mouths, there's little to no chance of swallowing them, even the single sized Bloks.
The educational purpose of these blocks is to help stimulate creativity, imagination, problem solving and fine motor skills, and I'd agree that it does all of that. I guess my daughter is still a little young, but she will play with them on her own for just a few minutes, but if I'm playing with her, she'll play for ages – especially if she can tip the towers out over me. That's great fun.
The bag has a picture of a roof shaped block on it and ours didn't contain one like that, so I don't know if it's just a picture, or a mistake in our pack, but it's worth mentioning.
Also, the fact that it comes in a sturdy bag is really useful as it makes packing up and storage way less of a pain.
Mega Bloks are regularly on sale, and I like the fact that we can mix and match with other colour sets too, and overall I think it's good value for money.